I was perusing downtown McMinnville last Friday as part of my weekly field trip habit to spark joy in 2023. I ducked into a new little shop on a side street full of an eclectic mix of candles, plants, clothing, artwork and the like when I spotted the hats. They were displayed on the wall in subdued colors of black, grey, and navy. The hats were wide brim with wire inside for personalized form with tops of a low, bent, wizard shape- not so high to be audacious but just high enough to evoke a bit of Gandalf or Harry Potter. Cool- but such dark colors.
Then in the next room, I spotted the red one perched on a coat rack above a trendy wrap. I placed it on my head. It was perfect. Now I am not one to buy conversation piece clothing but had to have this hat (aging gives you license to not care what people think.) It would be a bit of joy to parade around in and make me feel just a tad magical. Plus the wool blend and wide brim were a practical combination for the cold, rainy days of W. Oregon. It would also be a blank canvas for some pins I had collected with nowhere else to display.
I paid for my purchase and wore my red hat out of the store. People smiled. One lady called out from across the street, "I love your outfit!"
Maybe it is a magic hat.
P.S.
When I looked for a poem that celebrated red hats I found the Red Hat Society, an Internatonal organization dedicated to women over 50 who want live life to the fullest. "The Red Hat Society is a worldwide membership society that encourages women in their quest to get the most out of life. We support women in the pursuit of Fun, Friendship, Freedom, Fitness and the Fulfillment of lifelong dreams." On their outings they wear red hats and purple clothing.
This poem is from the Red Hats of Manitoba…
A Red Hat Poem
My hat I wear with great aplomb
It makes me feel so bolder
For though I've passed the "50" mark
I don't feel any older
Than when I was a sweet young thing
Just barely out of my teens
And wearing out my platform shoes
And wide bell bottom jeans.
But now I have a purple frock
It really is a shocker
all finished off with "Big Red Hat"
With ostrich feather topper.
I know the colors really clash
To me, it does not matter
I'm proud to say, I'm in the club
I'm a "50" plus "Red Hatter"



Who knew it's a thing?  Perhaps I will join.  I've got the red hat.  All I need now is some purple clothing to go with it!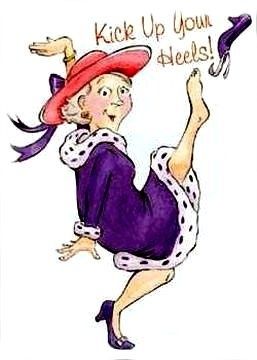 Tune into my other blog about sustainable living at onesweetearth.blog